Special Events
Following her sister's footsteps Anabelle Signs to play at Princeton
Keisha Sign to play at Seattle University
Walnut Girls Golfer Signs to play at Princeton
For the 3rd straight year another Mustang Golfer is headed to the east coast to continue there golf and Academic career. Alison Chang a 4 year varsity player for the Mustang will be playing in the Ivy league next year. Alison turned down other schools including other Ivy league schools before accepting an offer from Princeton. In her 4 years at Walnut she was all Hacienda League 1st team 4 times, All Academic 2 times, Won 2 CIF Team Championships, Played in 2 State Finals, Finish 2nd in CIF Individual, Has a 4.0 GPA. She will be missed but her dedication on and off the course will not be forgotten.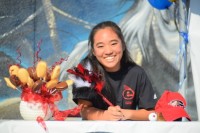 MEGAN HOU SIGNS TO PLAY GOLF IN COLLEGE
MEGAN HOU SIGNS TO PLAY GOLF IN COLLEGE
Congratulations to Megan, She sign her letter of intent to attend Southern Illinois University on a golf scholarship. Megan played 4 years of Varsity golf for the Mustangs, She was all Hacienda 1st team in 2104 and help lead the team to the State Finals in 2013. The team also won 2 CIF Championship and a runner up in her 4 years. Megan will continue her golfing in college, she will be missed at Walnut but she will be an asset to Southern Illinois.