News & Announcements
BOYS 2020 FINAL GOLF TEAM TRYOUT
Final After 22 holes of 22 the 2020 Boys Golf Team tryouts the winners are. The top 3 players qualified  for the March 2 tournament at Oakmont Country Club 


1 Austin Hou        52 41 =93  Varsity   Qualify for March 2 tournament at Oakmont Country Club 


1 Nicholas Heng  52 49 =101


3 Bryan Yu           53 36 =89  Varsity   Qualify for March 2 tournament at Oakmont Country Club 


4 Kelvin Wong      54 43 =97 playoff for Varsity 4th spot


5 Peter Zhang      56  35 =91  Varsity   Qualify for March 2 tournament at Oakmont Country Club 


6 Andy Cai           57 40 =97 Playoff for 4th Varsity 4th spot


7 Sheldon Yen      66 40 =106


8 Randell Oleas    67 DNF


9 Sajjan Harpel.    67 52 =119


10 Denis Bazuki    67 46 =113


Jacob Cortez DNF Kingsley Cameron Gordon Jason Evan and all others will tryout for final spots on February 2020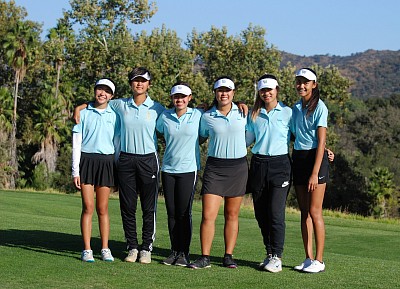 Kylie Lau, Esther Lee, Isabelle San Antonio, Emma Hsieh, Taylor Fan, Tiffany Le
CIF Individuals Qualifying at Soule Park GC
Congratulations to our girls for a remarkable job to never give up as each one of them worked hard and played their best in a 46 degree freezing weather, competing among 124 kids for one of the 36 spots of CIF Individual qualifying held on 10/28 at Soule Park Golf Course in Ojai.
4 of the girls: Tiffany Le (71), Isabelle San Antonio (73), Taylor Fan (75) and Kylie Lau (77) will move on to CIF Individuals Championship on 11/7 at Western Hills Country Club.
BOY'S 2020 GOLF TEAM TRYOUT
After 13 holes of 26 the 2020 Boys Golf Team tryouts the leaders are. The top 3 players will qualify for the March 2 tournament at Oakmont Country Club 


1 Austin Hou        52 First Group
1 Nicholas Heng   52
3 Bryan Yu           53
4 Kelvin Wong      54
5 Peter Zhang      56
6 Andy Cai           57 Second Group 
7 Sheldon Yen      66
8 Randell Oleas    67
9 Sajjan Harpel.    67
10 Denis Bazuki    67
11 All others 3rd Group 


Top 5 will play together on Thursday October 31 at 2 PM  Top qualifies for March 2 Tournament   
Walnut Girls win Hacienda League Championship!
The Lady Mustangs have captured another Hacienda League Championship with an undefeated 10-0 record. The team has secured themselves a spot in CIF Divisional Team Championship at Elkins Ranch GC on November 4th along with 6 players in CIF Individual at Soule Park GC on October 28th.  Tiffany Le, a junior, led the team with combined scores of 143 (71,72) followed by Esther Lee 147 (73,74) Taylor Fan 151 (76,75), Kylie Lau 153 (77,76), Isabelle San Anotonio 155 (77,78) and Emma Hsieh 157 (79,78). The team will carry this momentum into the post season.