News & Announcements
Congratulations 
Ashley Yun shot a 69 at Western Hills Country Club to win the CIF 2022 Girls Golf Individual Championship.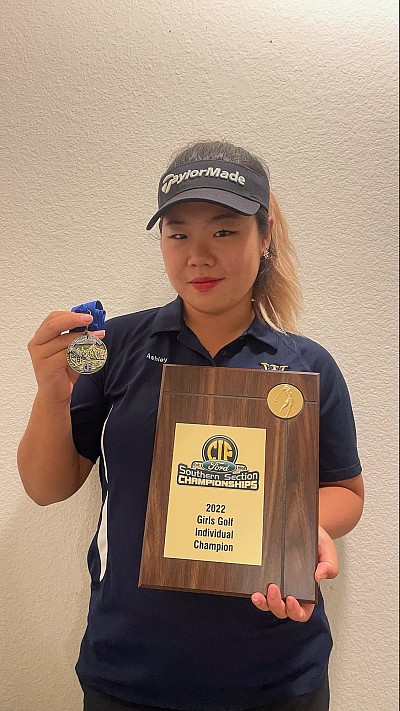 Ashley Yun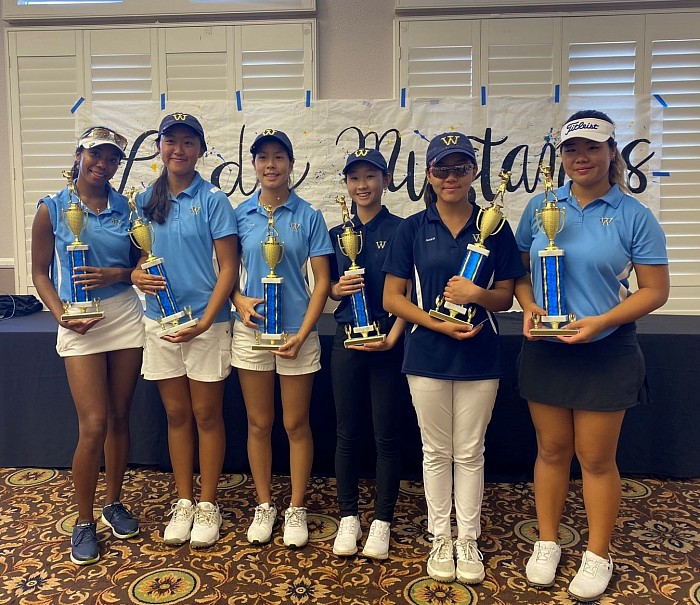 2022 Lady Mustangs Invitational Champions! Megan Carrigan, Joanna Song, Chloe Cheng, Kaylin Rhee, Jackie Li, Ashley Yun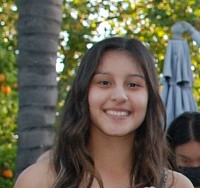 Kay Loera
Mt. SAC golfer Kayla Loera is low medalist (71) at OEC Match No. 3 at Costa Mesa CC.
https://www.mtsacathletics.com/sports/wgolf/2022-23/releases/20220928iau2nx
Walnut 204 - Los Osos 292 / Walnut 187 - Harvard Westlake 200
With today's 204 to 292 Victory Over Los Altos for the second time this week Walnut moves to six wins and zero losses in the Hacienda league the girls team second match today at Brookside country club in Pasadena they defeated Harvard Westlake 187 to 200 to move there record to 17 wins And zero losses on this season freshman Jackie Li lead all scores two under 34 followed by sophomore Chloe Cheng 1 under 35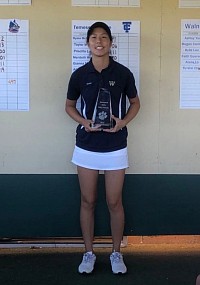 Chloe Cheng
Walnut finished 1st and 2nd in the Individual and Team Competition! 
Today at Victoria Country Club in the Inaugural Riverside Poly High School Girls tournament  Walnut finish 1st and 2nd in the Individuals and team competition.


Sophomore Chloe Cheng and Senior Ashley Yun both shot 73 with Chloe winning the playoff to claim 1st place Freshmen Jackie Li and fellow Freshmen Kaylin Rhee both shot 77. Senior Faith Guevara and Freshman Joanna Song shot 79 


In the team competition Chloe 73 Jackie 77 Kaylin 77 Joanna 79 Fiona Yang 80 and Freshman Sophie Su 85combined 386 beat Ashley 73 Faith 79 Megan Carrigan 80 Alana Lo 80 Kylie Lau 81 Krystal Chai 84. 393 Total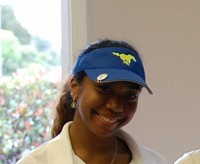 Megan Carrigan
WALNUT 189 - DIAMOND BAR 198
Megan Carrigan shoots 35 to lead Walnut to 189 to 198 victory over Diamond Bar in Girls Golf today at Mountain Meadows golf course. Walnut moves to 3 wins and 0 losses in Hacienda League.
Walnut 194 - La Serna 242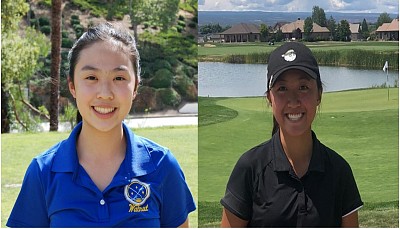 Alana Lo & Joanna Song
Senior Alana Lo and freshman Joanna Song shot 37 to lead Walnut to 194 to 242 victory over La Serna high school today a California Country Club.
1st Collegiate Win!!!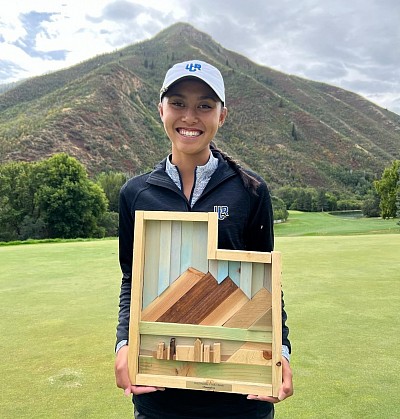 Tiffany Le 1st Win at Hobble Creek Classic in Utah
Congratulations to Walnut Girls Golf Alumni Tiffany Le on her collegiate victory at the Hobble Creek Classic in Utah. Tiffany won the tournament as an individual with rounds of 72,71 and 73 with a field of 108 players. Well deserved and amazing golf! We are so proud and over joyed!
Walnut 200 Sherman Oaks Norte Dame 202
Today at Brookside Golf Course in  Pasadena freshman Kaylin Rhee shoot 38 for Walnut to a 200 to 202 vivtory over  Sherman Oaks Notre Dame.
Walnut 194 Sunny Hill 198
Today at La Mirada Golf Course Sophomore Chloe Cheng shot an even par 36 to lead the walnut girls to 194 to 198 victory over Sunny Hills high school 🏫 Freshmens Jackie Li and Kaylin Rhee followed with 38's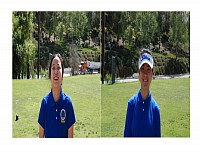 Fiona Yang - Kyrie Padero
August 26
Fiona Yang and Kyrie Padero both shoots 31 at Birch Hills Golf course to lead Walnut to a 171 to 223 win over Sunny Hills High JV Team

Senior Megan Carrigan shoots 3 under par 33 to lead the Girls to victory over Chino Hills High. Jackie Li 37 Ashley Yun 38 and Chloe Cheng 39 help Walnut girls to there biggest margin of victory this year