News & Announcements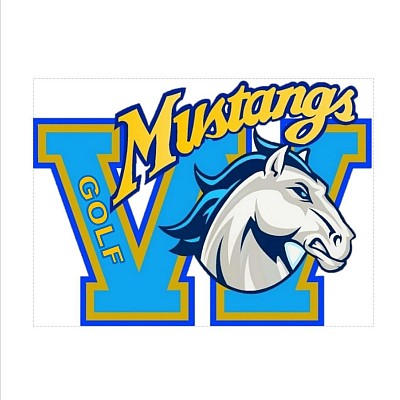 GIRLS AND BOYS GOLF TEAM WITH A STRONG START, GIRLS TEAM STAY UNDEFEATED
Girls team with their 4 wins this week over Glendora on Monday at Mountain Meadows and a win over Temple City on Tuesday at Eaton Canyon GC. A win over Troy 2nd team on Wednesday at Fullerton GC and Hacienda League opener win over Loa Altos at Mountain Meadows on Thursday.The girls improved to 7 wins 0 loss on the season. The big test for the girls team comes on Tuesday April 6 when they host Troy Varsity team at California Country Club. Thursday April 8 when they travel to the South Bay to play the #1 ranked Palos Verde High on PV home course Palos Verdes County Club.
The Boys team finished 2nd in a field of 16 teams on Monday at California Country Club. They followed that with a 215 to 232 win over Sunny Hills HS and a win in the League opener over Los Altos. The boys suffer there first lost to San Marino 205 to 227 at LA Royal Vista on Thursday.
The girls are trying for their 9th straight Hacienda League Championship and the Boys there 7th straight.With league realignment the addition of Diamond Bar and Wilson will surely make it difficult to repeat as League Champions.

WALNUT 3-0 Start!
Isabelle San Antonio shot a 1 under par in the season opener as the Walnut Girls defeated Temple City following that the team was led by senior Taylor Fan 38 as the team defeated San Marino the team then travel to Temecula and defeated Great Oak High School with Sophomore Kylie Lau leading the way with a 37. Walnut improved to 3 wins and 0 Loses on the season. The team will be tested in the next 2 weeks when they play Troy on April 6 at California Country Club and Palos Verde at Palos Verdes Country Club on April 8.  

Ethan Chang, Niole Zhang, Allison Chang
CONGRATULATIONS!!!
Congratulations to seniors Ethan Chang and Nicole Zhang! Ethan has been accepted to UCLA major in Medicine and Nicole to Perdue, UC Santa Barbara and UC Irvine in computer science major. Ethan, a 4 yeas varsity golfer and a CIF Team Champion. Nicole, a 3 years varsity and 2 times CIF Team Champion.
Congratulations to Girls golf graduated Allison Chang class of 2016 graduated from Princeton in 2020 has been accepted to UCSF MEDICAL SCHOOL ( Allison and her sister Annabel helped Walnut girls team to numerous State appearances and a state championship).


The Walnut varsity girls golf team will open the 20/21 season March 22 at California Country Club. They will host Temple City High one of the best high school golf team in the Valley. Tuesday they host San Marino another top girls golf team on Wednesday the lady Mustangs will travel to Temecula to play Great Oak High one of the best high school girls golf team in that area.  Thursday they will host San Marino at Mountain Meadows. 


The Boys team will open the season  on Monday the 29 hosting the Mustang tournament at California Country Club at 7AM  Schools  participating Arcadia, Chino Hills, Diamond Bar, Los Osos, Maranatha, Palos Verdes, San Marino, Sunny Hills, Troy and West Covina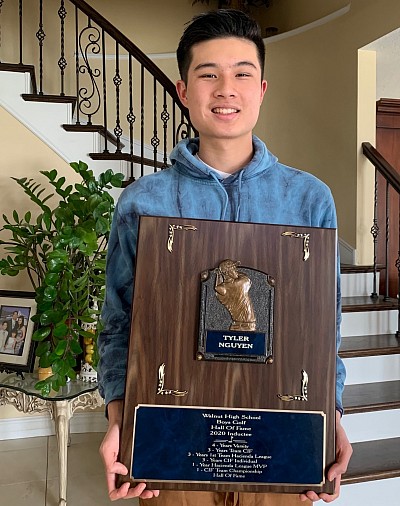 Tyler Nguyen
CONGRATULATIONS!!!


WHS Boys Golf
Hall Of Fame 2020 Inductee
TYLER NGUYEN
4 Years Varsity
3 Years Team CIF
3 Years First Team Hacienda League
3 Years CIF Individual
1 Year Hacienda League MVP
1 Year CIF Team Championship
CONGRATULATIONS
Congratulations to Senior, Tiffany Le, who signed her National Letter of Intent to further her academic and athletic career at UC Riverside.
So proud of you Tiffany!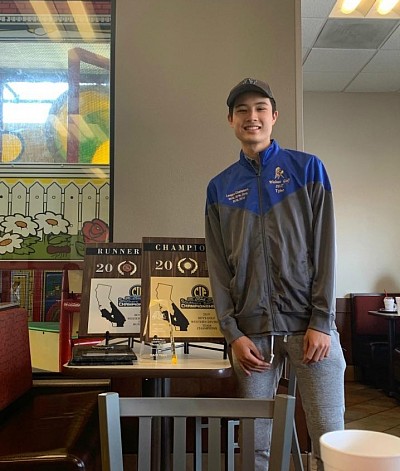 Tyler Nguyen
Tyler Nguyen lives and breathes golf. Committed to play collegiate D1 golf for Manhattan College with both an academic and golf scholarships. We are so proud of you, Tyler, for making your dream a reality! Go Jaspers  
CONGRATULATIONS!
CONGRATULATIONS!
CONGRATULATIONS!


Bryan Yu
WALNUT 191 - WEST COVINA 227
Senior Bryan Yu shot a one under par 35 today at Mountain ⛰ Meadows GC to lead Walnut to a 191 to 227 victory over West Covina High.


It was the Hacienda League opener Walnut , The team is looking for there 8 straight Hacienda leagueChampionship. 


Freshman Austin Hou and senior Tyler Nghyen shot one over  38 followed by sophomores  Kelvin Wong and Nicholas Heng shooting four over par 40.


The team will play tomorrow at West Covina home 🏡 course South Hills CC.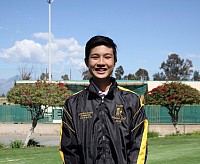 Walnut 199 - Western Christian 219
Today at California Country Club, Tyler Nguyen shot 1 under par 35 to lead Walnut varsity boys team to a 199 to 219 victory over Western Christian.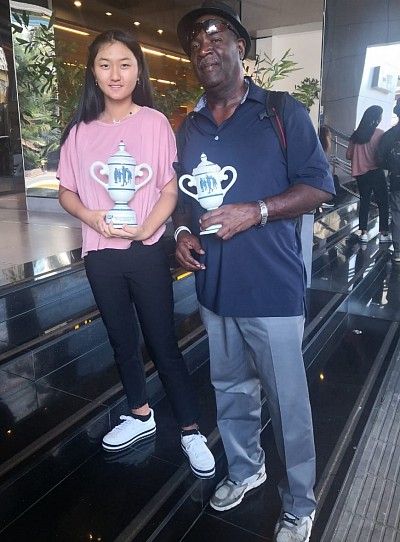 CONGRATULATIONS!!!!
Future Walnut player, Jazmine Yoon finished second in Central American Championship and our very own Coach Woods finished third. Congratulation to both.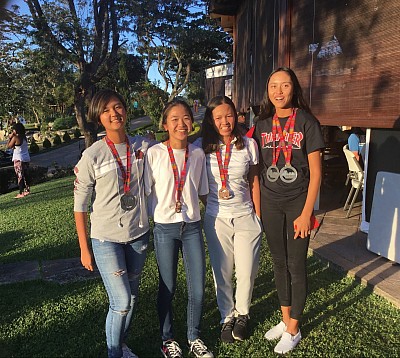 Esther Lee, Kylie Lau, Isabelle San Antonio, Tiffany Le
2019 Guatemala Amatuer Championship
Walnuts Golfers Junior Tiffany Le Sophomore Isabelle San Antonio Sophomore Esther Lee and Freshman Kylie Lau , All four Walnut Golfers played well in the 2019 Guatemala amateur 72 holes golf ️‍♀️Tournament  championship. Tiffany Le a high school junior finish second to Marianna Vilades a Junior at  University of Texas El Paso, The tournament  was played in San Isidro Guatemala just outside of Guatemala City. Isabelle San Antonio a high school sophomore  and Kylie Lau a high school freshman finished tied for eighth place with sophomore Esther Lee finishing in 12th place. The tournament was played over four consecutive days November 27 28th 29th and 30th.  All the players had a great time with other players from Puerto Rico,Chile,Costa Rica,South Korea Panama 🇵🇦 and Guatemala. All the players are looking forward to coming back next year where the winner will get an automatic berth into the British junior amateur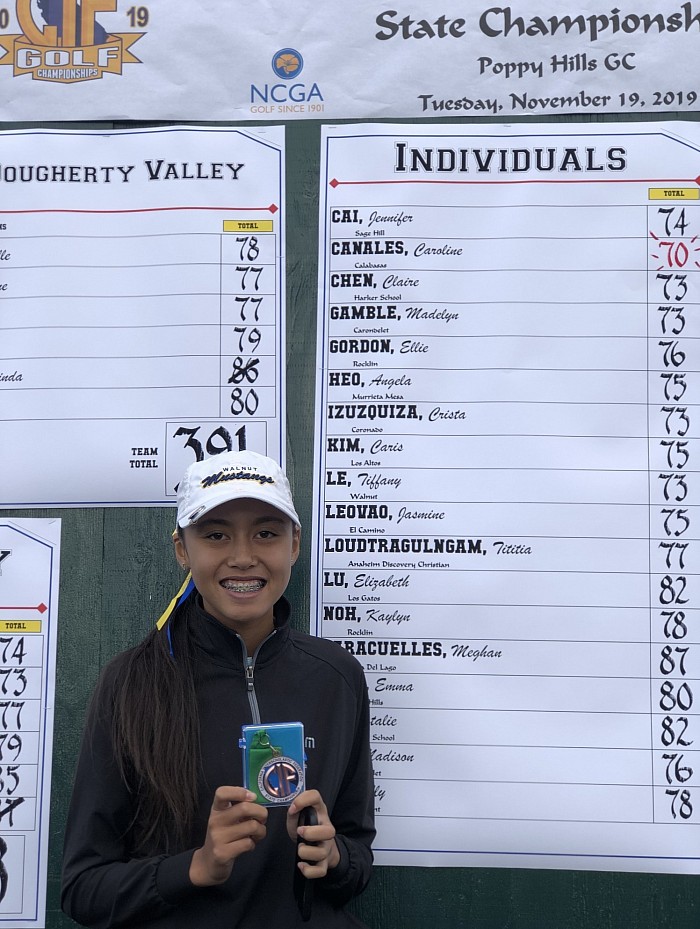 Tiffany Le a medalist at 2019 CIF State Girls High School Championship at Poppy Hills GC