News & Announcements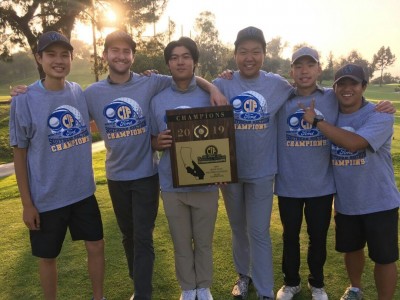 2019 CIF CHAMPIONS
Congratulations
to Alrik Pan and his Walnut teammates on winning the CIF team championship, Despite a double bogey on the 18 hole Alrik shot a 4 under par 68 to lead Walnut to a 370 to 375 win over Diamond Bar. Walnut now moves on to the State Qualifying Tournament on Thursday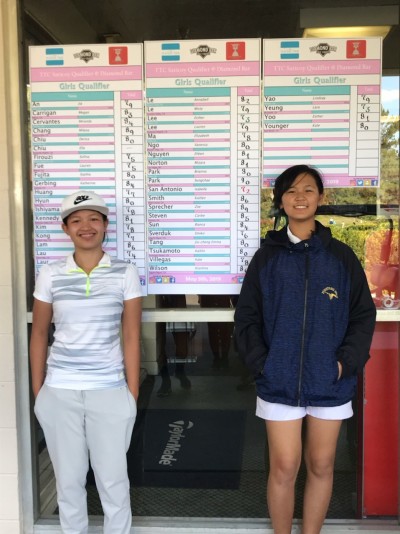 Congratulations to Isabelle San Antonio who shot a one under par with 71 taking 1st place and Esther Lee who shot even par at 72 tied for second at Diamond Bar golf course. Both qualified for the Toyota Tour Cup tournament.
Congratulations to Alrik Pan on winning the 2019 Hacienda League Individual Championship, his 3rd in 4 years.
Alrik along with 2nd place finisher Tyler Nguyen and 3rd place Jesse Peh will play on Monday with Brendan Yeates (4th) ,Peter Zhang (6th) and Ethan Chang (7th)at the CIF Individual championship on Monday May 6 at River Ridge GC In Oxnard. 
Alrik 211 ( 69,71,71 ) 5 under par was the second lowest total in league history, Tyler 220 ( 68,72,80 ) and Jesse 226 ( 75,75,76 ) were the top 3 finishers. 
Walnut High Players took 6 of the 7 Individuals spots that was allocated to the league by CIF, Diamond Ranch player won the other spot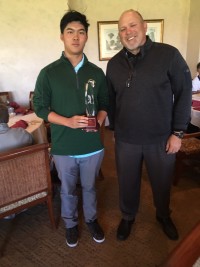 Congratulations to Walnut Boys Golf team on winning the West Covina Bulldog Tournament. Alrik Pan won the individual championship with a six under par 66 followed by Brian Yu one over par 73 Walnut defeated highly rated Arcadia by 12 strokes to win the championship.
Precious Saelee and Jesse Peh all signed the letters of intent to go to college on scholarships. Precious will be going to Rose Hulman University and Jesse will be headed to California State University, Dominguez Hills.
Nicole Le, Abigail Wiranatha and Alrik Pan all signed the letters of intent to go to college on scholarship Nicole will be going to University of California Riverside. Abigail will be headed back east to attend university of Pennsylvania and Alrik Pan will go to San Diego play for University of San Diego.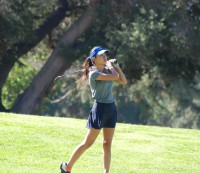 Abigail Wiranatha


ABIGAIL WIRANATHA FINISHED 2ND IN THE CIF CHAMPIONSHIP
In the CIF Individuals Championship at River Ridge Golf Course in Oxnard Walnut Senior Abigail Wiranatha shot a two under par 70 to finish 2nd in the individual championship. Abigail and her team also advance to the final round of the State Qualifying on September 8 at Brookside Golf Course.
The top two teams from San Diego, Fresno and the city of Los Angeles will join Walnut,Troy, Mater Dei and Diamond Bar will play with the top 3 teams advancing to the State finals against the top 3 teams from the North.
Abigail and her Walnut teammates will be trying to advance to the State Finals for the 4th straight year.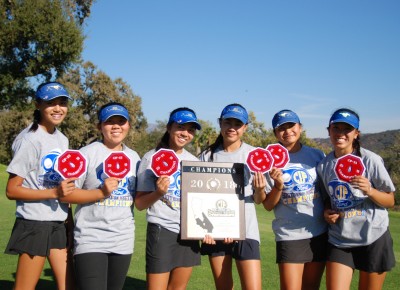 2018 CIF CHAMPIONS
SENIOR ABIGAIL WIRANATHA LEADS GIRLS GOLF TEAM TO 2018 CIF CHAMPIONSHIP
Abigail Wiranatha made an eagle on her last hole at the tough Soule Park Golf Course in Ojai to shoot a one under par 70 toLead the girls golf team to the CIF Championship. She was the only player to shoot under par.


Walnut girls defeated Westlake for the second straight year 377 to 388. Abigail 70 was followed by sophomore Tiffany Le 73 Senior Nicole Le 76 Junior Naomi Wiranatha 78 senior Precious Saelee 80 and sophomore Lauren Fue 83.


Walnut will move on to the State Qualifying Tournament in Oxnard on November 1. They will compete against 11 other topSchool from southern section area with the top 4 team going to the final round of State Qualifying Playoffs.


The girls are trying to make their fourth straight appearance in the state finals.
Lauren Fue
Sophomore Lauren Fue Shoots 73 in CIF
Sophomore Lauren Fue leads 4 Walnut golfers in the CIF Individuals Qualifying Tournament, Lauren shot a 73 to lead 4 of Walnut into the CIF finals next week at River Ridge Golf Course in Oxnard. Also qualifying seniors Precious Saelee, Abigail Wiranatha and sophomore Tiffany Le.
Senior Nicole Le 78 missed qualifying by 1 stroke, Junior Naomi Wiranatha missed by 5 strokes
Walnut will be playing in the CIF team championship on Monday October 29 in Ojia