News & Announcements
Boys Golf - Team Keeps Winning
The boys golf team enters the spring break with 15 wins 2 loss (6-0) in League play. The team has a 2 match lead in the Hacienda League, with only 4 league matches left the team is in position to win there 3rd straight League Championship.

When the season resumes after spring break the boys will play in the Beaumont invitational. They will then resume League play against Diamond Ranch and West Covina. This year team is led by senior Rami Abdou who recently wan a tournament shooting 71,69.

Freshman Alrik Pan leads the team and the League in scoring average ( 36). If the team continues to improve they will enter the league finals on April 28 as favorites to send 4 or 5 players to CIF.


After League finals the team will play in Palm Springs in the CIF Individuals.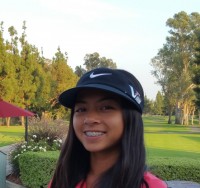 CONGRATULATIONS NICOLE LE!
2016 Spring TTC Qualifying School
Menifee, CA – Saturday, February 6 & Sunday, February 7 @ Menifee Lakes Golf Course Country Club. In this 2-day event, 88 girls from various countries and cities trying to qualify playing 36 holes to earn their spot in the 2016 Season Toyota Tour Cup. Only the top 10% of the girls, plus a tie, will earn their 2016 Toyota Tour Cup membership. Nicole Le, a freshman from Walnut High School Girls Golf team, entering this event for the first time not expecting anything, but just to compete. Her first round on Saturday on the Palms Course, she shot a 78, a 6 over PAR and tied for 12th place going into the final round on Sunday. With knowledge of last year's stats, she would need to shoot 75 or below to have a chance to qualify. On Sunday Round 2, she started on the back 9 of the Lakes Course, shot a 1 over PAR. Then on the front 9, she had a beautiful EAGLE on hole #1 PAR 4, bogeyed on holes 3,5,6,7 & 9 and finished with a round of 76, a 4 over PAR round. She ended her 2 rounds with a total score of 154, a 10 over PAR, which put her in a tie for the 8th spot and qualified to the 2016 Season Toyota Tour Cup. It was an exciting finish with the best overall results. We're so proud of our Lady Mustang!!!
Mustangs finish first and second at state
After an exhausting round at Poppy Hills, Walnut girls Mustangs lost the first place trophy by three strokes to the other Mira Costa Mustangs. But with such a young team, they're sure to be back next year in an attempt to capture their first state title. Despite their second place finish, the team won its second straight Eastern Division CIF section title and its second straight Southern Section team title. The team will take the rest of the week off and start practicing next Monday for next year's championship. Don't be late, girls!!!!!!!!!!!!!
Read all about it at the San Gabriel Valley Tribune article: Walnut finishes second in CIF State golf finals.
State qualifying
Walnut girls golf team will attempt to qualify for the state championship on Thursday at Goose Creek Golf Course in Corona. Senior Allison Chang, Junior Annabelle Chang, and Catherine Yu sophomores Katherine Muzi, and Trussy Li along with freshman Abigail Wiranatha will do their best to lead Walnut back to the State Championship for the second time in three years. Only the top three teams will qualify to go to Pebble Beach. They will be playing against the top two teams from San Diego, the top three teams from LA City, and the top three teams from the Fresno area along with San Marino High School, Palm Desert High School, and Mira Costa High School. If the team continues to play the way they did, when they won the CIF Championship and the Southern Section Championship, they will have a very good chance to qualify.
Read all about it at San Gabriel Valley Tribune article: Walnut takes second to advance to CIF State finals
Repeat CIF Champions
Congratulations to the Walnut girls' golf team as they won their second consecutive CIF championship yesterday (11/2/2015) at Jurupa Hills. The team was led by Princeton bound senior Alison Chang's one-under par 70, followed by league champion sophomore Katherine Muzi's 71 and sophomore Trussy Li's 71. The team seems to be rounding into shape just at the right time. On Thursday, they will play at Western Hills Country Club in the first round of the state qualifying. Of the 21 teams that were there, Walnut was the only team that had all its players shoot in the 70s; Keisha Lugito 75, Anabelle Chang and Abigail Wiranatha 77. If they continue to play like they did today, they should be able to advance to the next stage. They will face off against the 12 best teams in the southern section, with the top four advancing to the final stage of state qualifying at Goose Creek on Thursday, November 12.
See result at CIF-SS 2015 Eastern Division Team Championship
WALNUT 3PEAT!!!
I want to thank all the players, coaches and especially the volunteers that helped make today's tournament one of the best to ever.

Individual Champion: Elizabeth Wang, San Marino 72

2nd Place Tie: Beth Lillie, Troy 73 & Andrea Lee, Mira Costa 73

4th Place Tie: Katherine Muzi, Walnut 74 & Venessa Wang, La Serna 74

6th Place: Marni Murez, Mira Costa 76

7th Place Tie: Briana Chacon, 77 La Serna, Felicia Chang 77 Troy, Ashley Kim 77 Mira Costa, Bella Setio 77 San

Marino, Abigail Wiranatha 77 Walnut

Championship Flight (6 players count 5 scores)

1 Walnut #1 392 ( 6th player score 85) Champions Katherine Muzi 74

2 San Marino 392 ( 6th player score 91) 2nd Elizabeth Wang 72

3 Mira Costa 393 3rd Andrea Lee 73

4 La Serna 402 Vanessa Wang 74

5 Troy 407 Beth Lillie 73

6 Walnut # 2 411 Catherine Yu 79

7 Great Oak 431 Grace Talpash 84

8 Santiago 434 Sarah Ki 80

9 Oak Christian 437 Shaya Aguilar 82

10 Liberty 454 Macey Mills 81

11 San Juan H 460 Emily Lichty 87

12 Glendora 489 Kralyn Salazar 81

13 Bishop Amat 497 Sharon Chen 85

A Flight (5 players count 4 scores)

1 Walnut 3 352 Precious Saelee 82

2 Walnut 4 390 Lauren lau 89

3 Righetti 424 Sara Furatt 78

4 Xavier Prep 435 Vera Markevich 81
5 La Quinta 450 Mariah Moon 86

6 West Covina 456 Nicolette Pang 103

7 Charter Oak 489 Natalie Guerra 88

8 Arcadia 500

9 Diamond Ranch 500