News & Announcements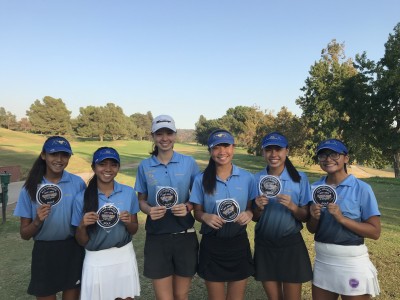 Walnut Girls golf take 6 spots in Hacienda League Final!


Katherine Muzi-141
Abigail Wiranatha-143
Trussy Li-145
Naomi Wiranatha-148
Tiffany Le-149
Nicole Le-155


Trussy Li shoots 2 under par 70 to win the Tournament Championship

Nicole Le Makes 1st HOLE-in-ONE in MUSTANG TOURNAMENT
Walnut defeats Troy High School to win there 5th straight Mustang Team Championship. Walnut's number one team was led by Trussy's 70 Abigail Wiranatha 74 Katherine Muzi 74 Nicole Le 75 Naomi Wiranatha 79 and Tiffany Le 82.


In the Individual's Trussy's two under par 70 was 1 strokes better than San Diego's Torrey Pines High Venassa Ho 72 La Serna Briana Chacon and Sunny Hills Hanna Ko tied for 3rd with 73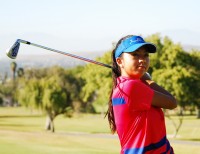 NICOLE LE LEEDS TEAM 1 WITH 37
TEAM 1 TAKES A 3 STROKE LEAD 2 ROUNDS TO GO
In the 1st round of the Mustang vs Mustang challenge Team 1 leads Team 2 194 to 197. The teams will play 3 times. The winner will all be treated special meal hosted by In n Out. Today's match was at California Country Club, On Monday October9they will play at PP. The teams will return to California Country Club on October 11 for the final round.
Team 1 Team 2
Abigail Wiranatha 39 Trussy Li 40
Katherine Muzi. 40. Tiffany Le 39
Nicole Le 37 Naomi Wiranatha 37
Lauren Fue 38 Nicole Zhang. 40
Rachel Zhang 40 Precious Sealee. 41
Tiffany Han. 49 Akira Romyanand 47
5 best scores 194 Best 5 scores. 197


Trussy Trussy Trussy
Congratulations to Trussy Li, She has been offered a 100% scholarship to play at division 1 Albany and Denver University. If she Accept it will be Boston College, Hawaii, Albany and Rutgers loss.They are all perusing her talent. Denver has a rich history of graduates on the LPGA Tour. As of today, there are 12 current and former players that have played on the LPGA Tour . Denver University is also consider one of the best academic university in the nation. For the 5th consecutive year Walnut Golf will send players to college on golf scholarship. She is looking forward to committing so she can concentrate on helping Walnut win a 2nd State Championship. The only question that remain will it be Denver, Boston College,Hawaii, Albany or Rutgers. I am going to guess it is going to be ???? But at this only Trussy knows
Walnut's Anabelle Change during 2016 CIF State Girls Golf Championships at Red Hill Country Club in Rancho Cucamonga on Tuesday, Nov. 15, 2016. (Photo by Watchara Phomicinda, San Gabriel Valley Tribune/ SCNG)
Walnut's Anabelle Chang is Tribune Golfer of the Year
Anabelle Chang
Senior, Walnut
Anabelle Chang had to be persistent and consistent. The Walnut High School golfer did not necessarily have to break par in CIF postseason play. She did not even need to have her team's best round in the season's five important tournaments. But what the senior had to do was persistently be consistent. Her play helped the Mustangs earn their first CIF State championship and earned her San Gabriel Valley Tribune Golfer of the Year honors.
"I'm really happy to go out with a bang," she said. "It's my last high school golf tournament. We made it here and we won." Read more...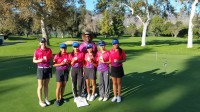 CONGRATULATIONS NEXT STOP STATE CHAMPIONSHIP FINALS
CONGRATULATIONS NEXT STOP STATE CHAMPIONSHIP FINALS
The 2016 Girls golf team is one step from realizing there season final and ultimate goal. Despite not playing up to their usual standards they qualified for the Stats Championship. On a course that does not play to there strengths they fought and scratch there way to the finals. Two time League MVP Katherine Muzi led the way with a 75 followed by Current League MVP. Anabelle Chang 76 and Freshman Naomi Wiranatha 76. Despite her bad luck on hole one when she hit her ball in her own pitch mark Trussy Li manage a respectable 77. Sophomore Nicole Le shot 79 was followed by Abagail Wiranatha 80. The Championship will be on Tuesday November 15 at Red Hill Country Club in Rancho Cucamonga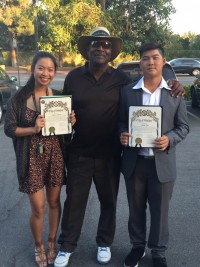 Congratulations to Alison Chang and Alrik Pan.
Walnut players recognized
27 July 2016 >> Congratulations to Alison Chang and Alrik Pan. They both were recognized by the City of Walnut City Council last night for there outstanding play.
Alison and Alrik were both named San Gabriel Newspaper players of the year.
Alrik won the Hacienda League MVP, The team MVP and finish 10th in the Boys State Playoffs. He is the first boys player to make it to the State Playoffs in the school history.

Alison finish 2nd in the CIF playoffs shooting 67, She help led the Girls Golf team to there 2nd straight CIF Championship and to the State final twice in her 4 years. She is the 1st and only player in Walnut history to have 4 straight rounds under par in the Golf playoffs.

They want all the players and parents who came out to support them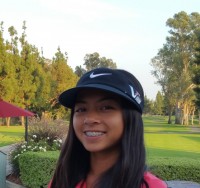 CONGRATULATIONS NICOLE LE!
2016 Spring TTC Qualifying School
Menifee, CA – Saturday, February 6 & Sunday, February 7 @ Menifee Lakes Golf Course Country Club. In this 2-day event, 88 girls from various countries and cities trying to qualify playing 36 holes to earn their spot in the 2016 Season Toyota Tour Cup. Only the top 10% of the girls, plus a tie, will earn their 2016 Toyota Tour Cup membership. Nicole Le, a freshman from Walnut High School Girls Golf team, entering this event for the first time not expecting anything, but just to compete. Her first round on Saturday on the Palms Course, she shot a 78, a 6 over PAR and tied for 12th place going into the final round on Sunday. With knowledge of last year's stats, she would need to shoot 75 or below to have a chance to qualify. On Sunday Round 2, she started on the back 9 of the Lakes Course, shot a 1 over PAR. Then on the front 9, she had a beautiful EAGLE on hole #1 PAR 4, bogeyed on holes 3,5,6,7 & 9 and finished with a round of 76, a 4 over PAR round. She ended her 2 rounds with a total score of 154, a 10 over PAR, which put her in a tie for the 8th spot and qualified to the 2016 Season Toyota Tour Cup. It was an exciting finish with the best overall results. We're so proud of our Lady Mustang!!!