News & Announcements
Walnut wins CIF State girls title
RANCHO CUCAMONGA >> Walnut High School coach Cecil Woods kept telling his girls golf team that the important tournament was at Red Hill Country Club.
The Mustangs went undefeated in the regular season, but did not win a CIF Southern Section title, the CIF-SS's all-division tournament or the CIF-WSCGA Southern California crown. But Walnut won the title it wanted the most: The CIF State title on Tuesday afternoon at Red Hill.
"It feels so good to finally be champion," sophomore Abigail Wiranatha said. "We were hoping and praying for the chance to be champions."
The Mustangs won their first state title by three strokes, edging Troy 394-397. La Serna finished fifth with a 407.
Walnut finished third in 2013 and then second last year.
"Our motto was that the first two years we went to the party and they wouldn't let us in," Woods said. "The third year it was: Kick the door down, take the trophy and say, 'Thank you.' The girls did what they practiced to do all year. I am so proud of them. Read more...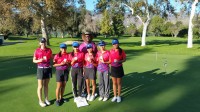 CONGRATULATIONS NEXT STOP STATE CHAMPIONSHIP FINALS
CONGRATULATIONS NEXT STOP STATE CHAMPIONSHIP FINALS
The 2016 Girls golf team is one step from realizing there season final and ultimate goal. Despite not playing up to their usual standards they qualified for the Stats Championship. On a course that does not play to there strengths they fought and scratch there way to the finals. Two time League MVP Katherine Muzi led the way with a 75 followed by Current League MVP. Anabelle Chang 76 and Freshman Naomi Wiranatha 76. Despite her bad luck on hole one when she hit her ball in her own pitch mark Trussy Li manage a respectable 77. Sophomore Nicole Le shot 79 was followed by Abagail Wiranatha 80. The Championship will be on Tuesday November 15 at Red Hill Country Club in Rancho Cucamonga
WALNUT WINS 4th Straight Mustang Golf Tournament, Ashley Kin wins the Individual
Thank you coaches for brining your team to the tournament, There were 147 Birdies, All got an In N Out Burger, Ashley got a record 9
In the Individuals Ashley Kim from Mira Costa made 9 birdies on her way to Tournament record 65
In 2nd Torrey Pines Carloyn Zhou shot 3 under 71 with Walnut Abigail Wiranatha 1 under 73 took 3rd place
In the team event Walnut Mustangs shot 385 to win there 4th straight Team Championship
La Serna High shot 390 they were followed by San Diego Torrey Pines High 396
In the A flight Bishop Amat took home the 1st place trophy with a 369 score
Championship Results (6 players count 5 scores) and A Flight top 2
1 Walnut 1 385
2 La Serna 390
3 Torrey Pines 396
4 Mira Coasta 402
5 Walnut 2 407
6 Troy 413
7 Arcadia. 417
8 Santiago. 445
9 Palos Verdes 447
10 Corona Del Mar 455
11 Great Oak 461
12 San Marino. 511
A Flight 5 Players Count 4 scores
1 Bishop Amat 369
2 Rowland. 377
3 Walnut 3. 379
4 La Quinta. 382
5 Upland. 394
6 Righetti 427
7 Coliseum. 442
8 Charter Oak 449
9 Diamond Ranch. 458
10 West Covina. 461
Individuals
1 Ashley Kim 65 Mira Coasta
2 Carolyn Zhou 71 Torrey Pines
3 Abigail Wiranatha 73 Walnut
4 Briana Chacon 74 La Serna
5 Wenesa Wong, Beth Lillie & Katherine Muzi 75 La Serna, Troy & Walnut
8 Trussy Li & Sherylin Villeanava 76 Walnut & Troy
10 Naomi Wiranatha & Keisha Lugito Walnut, Walnut
For all results and pictures of the Tournament go to
whsmustanggolf.com
3RD ANNUAL CS/T6 (CENTRAL SECTION/TEAM 6) 8/18/16
COURSE: BUENA VISTA GOLF COURSE (PAR: 72--RED TEES)
TEAM SCORING:
WALNUT (389): Le 73, Zhang 77, Yu 78, Lugitob 79, & Saelee 82
CLOVIS WEST (393): Nii 73, Enkoji 74, Terrey 80, Dufresne 81, & Musser 85
CLOVIS NORTH (441): Swanson 82, Bone 85, Bayer 90, Kurtt 92, & Bendure 92
FRONTIER (444): K. Irey 79, Copeland 86, Cohen 89, Moore 93, & A. Irey 97
GARCES (448): A. Crawley 83, C. Cornejo 86, G. Cornejo 87, S. Crawley 93, & Negal 99
LIBERTY (457): Cortez 85, Noe 85, Galicia 88, Barton 92, & Henry 107
STOCKDALE (470): Keene 75, Somani 92, Paterno 93, Anderson 98, & Aung 112
TOP 12 INDIVIDUALS
1st: *Madison Nii,CW 73
2nd: Nicole Le, Walnut 73
3rd: Aya Enkoji, CW 74
4th: Lexi Keene, Stockdale 75
5th: Rachel Zhang. Walnut 77
6th: Catherine Yu, Wulnut 78
7th: Keisha Lugitob, Wulnut 79
8th: Kaleigh Irey, Frontier 79
9th: Kayla Terrey, CW 80
10th: Taylor Dufresne, CW 81
11th: Precious Saelee, Walnut 82
12th: Caroline Swanson, CN 82
*=Nii defeats Le on 1st hole of Playoff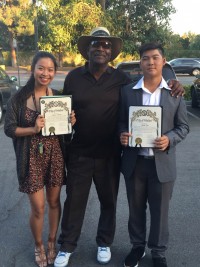 Congratulations to Alison Chang and Alrik Pan.
Walnut players recognized
27 July 2016 >> Congratulations to Alison Chang and Alrik Pan. They both were recognized by the City of Walnut City Council last night for there outstanding play.
Alison and Alrik were both named San Gabriel Newspaper players of the year.
Alrik won the Hacienda League MVP, The team MVP and finish 10th in the Boys State Playoffs. He is the first boys player to make it to the State Playoffs in the school history.

Alison finish 2nd in the CIF playoffs shooting 67, She help led the Girls Golf team to there 2nd straight CIF Championship and to the State final twice in her 4 years. She is the 1st and only player in Walnut history to have 4 straight rounds under par in the Golf playoffs.

They want all the players and parents who came out to support them
Walnut's Alrik Pan, Arcadia's Edward Wu advance in CIF golf
DESERT HOT SPRINGS >> The hat blew off Alrik Pan. His golf bag blew over and the golf ball seemed to move in the crazy winds blowing through Mission Lakes Country Club on Thursday.
But the Walnut High School golfer did not blow over in the CIF Southern Section all-division team and individual championships. He shot a 3-over-par 74 and earned a spot in next week's CIF/SCGA Southern California state qualifier at Brookside Golf Club. Also advancing with the same score is Arcadia's Edward Wu. Read more >>
ALRIK PAN, RAMI ABDOU LEADS TEAM IN SCORING
With just 2 weeks left before the League finals starts Alrik and Rami leads the team in scoring.
Alrik leads in tournament scoring with a 75 average followed Rami 75.5 Adrian 78.7 Branden 84
Andy 85 and Brian 86
In League and 9 holes matches Alrik leads with 35.9 2 Rami 36.9 3 Brian 40,5 4 Adrian 40.7
5 Nathan 42.25 T6 Tutt and Branden 42.33 8 Andy 42.33.
With yesterday win at Diamond Ranch the team improved to 7-0 in League play and moved within
one win of winning the Hacienda League Championship.
RAMI ABDOU AND ALRIK PAN SHOOTS 75 IN TOURNAMENT PLAY
Senior Rami Abdou and Freshmen Alik Pan shoots 75 to lead the boys team in the Beaumont High Golf Tournament. The team finish with an overall score of 390, That was good enough for a 2nd place finish. The team 390 score was the lowest in Walnut boys history. The boys will get ready to play Diamond Ranch next week where they can win there 2nd consecutive Hacienda League Championship and there 3rd in the last 4 years. With 4 league matches left and a 2 match lead the boys will no doubt finish undefeated in league play for the 2nd consecutive year.
Boys Golf - Team Keeps Winning
The boys golf team enters the spring break with 15 wins 2 loss (6-0) in League play. The team has a 2 match lead in the Hacienda League, with only 4 league matches left the team is in position to win there 3rd straight League Championship.

When the season resumes after spring break the boys will play in the Beaumont invitational. They will then resume League play against Diamond Ranch and West Covina. This year team is led by senior Rami Abdou who recently wan a tournament shooting 71,69.

Freshman Alrik Pan leads the team and the League in scoring average ( 36). If the team continues to improve they will enter the league finals on April 28 as favorites to send 4 or 5 players to CIF.


After League finals the team will play in Palm Springs in the CIF Individuals.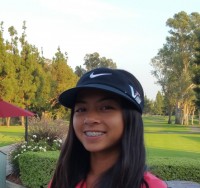 CONGRATULATIONS NICOLE LE!
2016 Spring TTC Qualifying School
Menifee, CA – Saturday, February 6 & Sunday, February 7 @ Menifee Lakes Golf Course Country Club. In this 2-day event, 88 girls from various countries and cities trying to qualify playing 36 holes to earn their spot in the 2016 Season Toyota Tour Cup. Only the top 10% of the girls, plus a tie, will earn their 2016 Toyota Tour Cup membership. Nicole Le, a freshman from Walnut High School Girls Golf team, entering this event for the first time not expecting anything, but just to compete. Her first round on Saturday on the Palms Course, she shot a 78, a 6 over PAR and tied for 12th place going into the final round on Sunday. With knowledge of last year's stats, she would need to shoot 75 or below to have a chance to qualify. On Sunday Round 2, she started on the back 9 of the Lakes Course, shot a 1 over PAR. Then on the front 9, she had a beautiful EAGLE on hole #1 PAR 4, bogeyed on holes 3,5,6,7 & 9 and finished with a round of 76, a 4 over PAR round. She ended her 2 rounds with a total score of 154, a 10 over PAR, which put her in a tie for the 8th spot and qualified to the 2016 Season Toyota Tour Cup. It was an exciting finish with the best overall results. We're so proud of our Lady Mustang!!!