News & Announcements
BOYS GOLF HACIENDA LEAGUE FINALS 1st ROUND RESULTS
After the 1st Round of the Hacienda League Finals Walnut Boys holds the top 6 spots.Freshman Ethan Cheng is leading after shooting a 2 under par 69 he is followed by Alrik pan 1 under 70In third place is Bryan Yu with an even par 71 Jesse Peh 73 Adrian Edralin 74 and Eric Han 76 round out the top 6. The second round will be at Green River Golf Course on Thursday April 26.
Alrik Pan shoots 72 to lead Walnut boys golf team second place in the bulldog tournament five strokes behind defending champion Servite. Walnut 301 was the best score so far this season the Hacienda league leaders will have to play a little bit better in the CIF championship in May when they see Servite again.
2017 GIRLS GOLF AWARDS BANQUET BIG WINNERS
KATHERINE MUZI - TRUSSY LI - AUDREY HENG - ABIGAIL WIRANATHA
NICOLE LE - TIFFANY LE
The Walnut Girls Golf Team had there banquet on Sunday at Mountain Meadows Golf Course. The big winners this year were Junior Nicole Le Season MVP, Abigail Wiranatha Playoffs MVP, Katherine Muzi League Champion, Tiffany Le Freshman of the Year, Audrey Heng Academic MVP, Seniors Trussy Li and Katherine Muzi were also the 2017 Hall of Fame Recipients.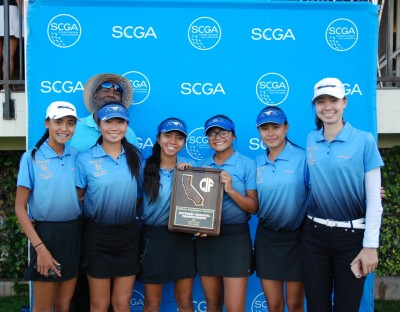 Katherine Muzi leads Walnut Girls golf team to their 3rd straight State Championship
Today at Canyon Crest CC in Riverside, Katherine Muzi shot a 3 under par 70 to lead the team to their 3rd straight State Championship Final.
The team will join Troy High who lost to Walnut in last year in the State championship, University High will be the 3rd team from the South. The 3 teams will join the top 3 teams from the North on the 14 of November at Poppy Hills GC in Pebble Beach Ca.
WALNUT GIRLS GOLF TEAM WIN CIF SOUTHERN SECTION CHAMPIONSHIP
Today at River Ridge GC in Oxnard, Walnut won the CIF Southern Section by beating Troy and 10 other top Schools from the southern section. The team shot a total of 379 was two strokes better than Troy 381 and 4 strokes better than third place University, Mater Dei and Westlake tied for forth with Mater Dei advancing to the final State qualifying.


Abigail Wiranatha led Walnut with a one over par 73, Katherine Muzi was right behind her with a 74 Tiffany Le and Trussy Li 77 Naomi Wiranatha 78 followed by Nicole Le 80.


If the team continue to play well the will have a good chance to go to the State Finals. Next week they will play in the last qualifying tournament against Troy, University, Matter Dei and the top two teams from San Diego, Fresno and the City of Los Angeles. The 10 Teams will compete for 3 spots to play against the top 3 teams from the North for the State Championship.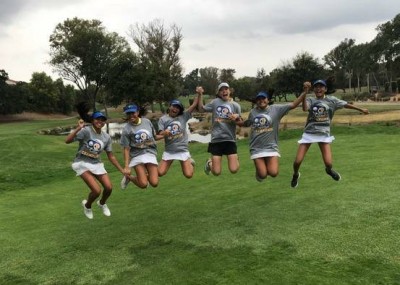 Abigail Wiranatha shot 66 to lead Walnut to their 3rd CIF Championship in 4 years.
Today at Los Robles Greens Golf Course in Thousand Oaks, Abigail Wiranatha shot a 4 under par 66 to lead the Walnut Girls Team to their 3rd CIF Championship in the last 4 years.


Abigail had a lot of help with freshman, Tiffany Le, and senior Katherine Muzi, each shot 72, Naomi Wiranatha and Nicole Le shot 74, followed by Trussy Li with 75.


The team score of 358 was the second best in Walnut history. Walnut score was 10 shots better than Westlake High with a score of 368. If Walnut continues to play well, they will have a good chance to move on to the next round. The team will travel to Oxnard on Thursday, Nov 2, to play in the first round of the State qualifier. They will compete against 12 of the top teams in the Southern Section with the top 4 teams advancing to play the top teams from San Diego and Fresno areas on November 9.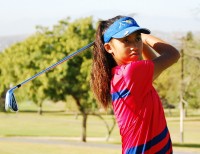 FRESHMAN TIFFANY LE LEADS 3 WALNUT LADIES INTO CIF GIRLS GOLF FINAL
Today at Soule Park GC in Ojai, Tiffany Le shot an even par 72 to lead 3 Walnut players into the CIF finals on November 2 at River Ridge GC in Oxnard Ca.
Following Tiffany 72 was Katherine Muzi 74, Abigail Wiranatha was one of 9 players that shot 77 and had to go into a playoffs to qualify for one of the remaining 4 spots. After a disappointing drive she recovered with a great 2nd shootout of the rough and made an 18 foot down hill putt for birdie to secure her spot in the finals.

The we're 128 girls in the northern region trying to qualify for 36 spots. Other Walnut players in the Tournament were Senior Trussy Li, Naomi Wiranatha Sophomore and Junior Nicole Le.
The team will prepare this week to play in the CIF Northern Team Championships in Thousand Oaks on Monday October 30. They will have to play much better as the playoff progress if they are to make it back to the State Finals. To get there they will have to finish as one of the top three schools next week at Los Robles Golf Course in Thousand Oaks where they will meet some tough teams. If they make through to the next round on November 2 at River Ridge GC. they would face all the Southern Section winners with the top four teams moving on to face the top teams from San Diego and Fresno area on November 9 at Canyon Crest CC in Riverside. The top 3 teams will play against the top 3 teams from the North on November 14 at Poppy Hills GC in Pebble Beach for the State Championship.

Tiffany is only the 4th Walnut Freshman to make it to the CIF Finals as a Freshman, if she continue to play well, Walnut will have a chance to move on.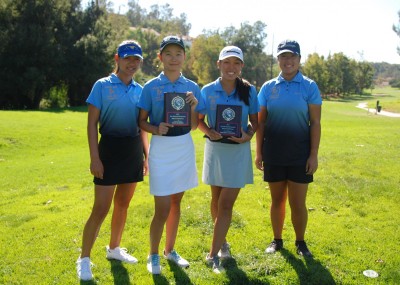 WALNUT GIRLS WINS FRESHMAN SOPHOMORE GOLF TOURNAMENT
Congratulations to Lauren Fue, She shot a one over 34 to lead the Walnut girls team to victory in The Troy High school Freshman Sophomore Tournament at Fullerton golf course. Lauren's 34 earned her a first place tie with a player from Santa Margarita.
Right behind Lauren 34 was Taylor Fan with a 35 followed by Nicole Zhang 38 and Emma Hseih 44. The team total of 151 was 16 shots better than second place Santa Margarita Troy finished third.


All these players will be working harder over The next 9 months as they will be competing for a spot on the 2018 Walnut Girls Golf Team that will be headed back to there 8 straight CIF playoffs.


All Walnut girls that did not make the CIF this year knows they will have to work harder in the coming months to secure one those spots.