News & Announcements
Congrats to our Mustangs boys golf for finishing second at the Calabasas tournament. Go Mustangs!
Tyler, Jesse, Adrian, Bryan, Alrik
Comes join us and have fun.

WHS Mustang Golf's Annual Fundraiser Event


It's that time again for us to raise our funds for this year. This year our tournament will be at Royal Vista Golf Course on Saturday, April 28, 2018. Comes join us and have fun.

SPONSORSHIP are available

Looking to promote and showcase your business? Our sponsors receive many additional benefits.
You can Donate Here.


2017 GIRLS GOLF AWARDS BANQUET BIG WINNERS
KATHERINE MUZI - TRUSSY LI - AUDREY HENG - ABIGAIL WIRANATHA
NICOLE LE - TIFFANY LE
The Walnut Girls Golf Team had there banquet on Sunday at Mountain Meadows Golf Course. The big winners this year were Junior Nicole Le Season MVP, Abigail Wiranatha Playoffs MVP, Katherine Muzi League Champion, Tiffany Le Freshman of the Year, Audrey Heng Academic MVP, Seniors Trussy Li and Katherine Muzi were also the 2017 Hall of Fame Recipients.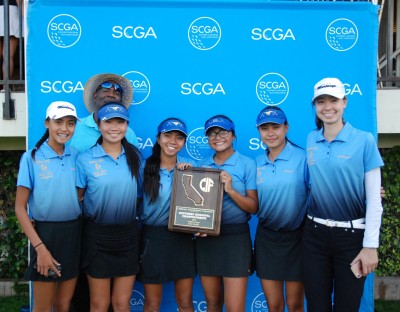 Katherine Muzi leads Walnut Girls golf team to their 3rd straight State Championship
Today at Canyon Crest CC in Riverside, Katherine Muzi shot a 3 under par 70 to lead the team to their 3rd straight State Championship Final.
The team will join Troy High who lost to Walnut in last year in the State championship, University High will be the 3rd team from the South. The 3 teams will join the top 3 teams from the North on the 14 of November at Poppy Hills GC in Pebble Beach Ca.
WALNUT GIRLS GOLF TEAM WIN CIF SOUTHERN SECTION CHAMPIONSHIP
Today at River Ridge GC in Oxnard, Walnut won the CIF Southern Section by beating Troy and 10 other top Schools from the southern section. The team shot a total of 379 was two strokes better than Troy 381 and 4 strokes better than third place University, Mater Dei and Westlake tied for forth with Mater Dei advancing to the final State qualifying.


Abigail Wiranatha led Walnut with a one over par 73, Katherine Muzi was right behind her with a 74 Tiffany Le and Trussy Li 77 Naomi Wiranatha 78 followed by Nicole Le 80.


If the team continue to play well the will have a good chance to go to the State Finals. Next week they will play in the last qualifying tournament against Troy, University, Matter Dei and the top two teams from San Diego, Fresno and the City of Los Angeles. The 10 Teams will compete for 3 spots to play against the top 3 teams from the North for the State Championship.